Here's to 2020
Posted by Dylan on Thu December 24, 2020.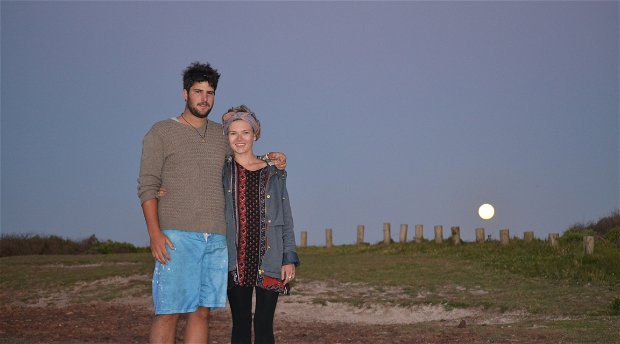 2020 started out wonderfully for Great Kei Adventures as we came out of our first December in operation. The response from the holidaymakers and locals alike was excellent as all our services including guided fishing and kayak adventures, shuttles and transfers, Trevor's Trails trips and kayak rentals were well utilized. Luck shone on us as we were able to execute all our jobs safely and successfully. Not to say there weren't a couple of close calls and fast learning curves along the way. The first few months of the year flew by with some awesome adventures taking place and a sense of smooth sailing ahead with a good amount of bookings in place and all going according to plan.
In March we were over the moon to be booked on a multi-day trip to Bulungula Lodge by Michelle Storm, her husband Steve Meyer and their awesome friends Jacob and Marcia from Wild Rumpus Circus in the USA. Despite some time stuck on a muddy hillside on the way home (which we luckily escaped from with only muddy shoes) we had a tranquillizingly lovely time exploring the natural beauty and culture around Bulungula. As we drove back from one idyllic paradise to our own back in Kei Mouth chaos was erupting across the globe as countries began to lockdown.
The day before our own lockdown came into effect we were very happy to be booked for one last airport transfer and settled in confident of our survival with some savings in the bank and hopes of making a small income over the upcoming Easter weekend. Little did we know that the extensions to come would halt our income for much longer than expected and after a couple of month ends our savings came very close to depletion. What made me personally feel most hopeless was not even being allowed to go down to our ever socially distanced coastline to catch a fish or collect some seafood for the table. Surely in a time when our ability to sustain ourselves economically is removed we should be able to live off the land. Knowing that many people who needed this resource much more than I do were arrested for trying to feed their families makes one wonder about how out of touch politicians really are with the people who they seek to control.
With the lockdown continuing and no end in sight, we began to feel more and more hopeless and unsure of whether the tourism industry would ever recover. One morning I found myself catching up with an old school friend over the phone and as I complained about our situation, he suggested something that would end up dominating the rest of our free time during lockdown and even up until now. In the blink of an eye we had launched a large-scale mission to start a small-scale exotic mushroom farm. As we built our pasteurizing tank, grow chamber and knowledge of mushroom cultivation we found a new source of hope and inspiration and Great Kei Fungi was born. The mushrooms grew and as we began to harvest, we were ecstatic to find that the local MorKei community made for an excellent market for our produce. Demand and opportunity allowed us to compliment our market stall with excellent olive oil and apple cider vinegar, both supplied by good friends and soon Great Kei Fungi developed into Great Kei Gourmet. We will be forever grateful to those who have supported us in this venture and helped to keep us afloat in these times.
Once the restrictions finally began to ease, we were pleasantly surprised to find that the demand for adventure had built up as enquiries suddenly started to emerge. Slowly we began to crawl our way back into operation with some kayaking and fishing adventures being booked and executed. The highlight of this period was being invited by Eastern Cape Travel to join their team and a film/photography crew on a trip along the Wild Coast to document the impact of lockdown on the local tourism industry and to capture what the area has to offer to the traveller. We were graciously hosted by awesome colleagues at Coffee Shack, Ocean View Hotel and Coffee Bay Kayaking, we can highly recommend all these establishments and thank them for their hospitality.
Dom and I made a quick decision to do some more exploring before returning to Kei Mouth and a quick google search and a phone call set us on our way to Vukani Backpackers in the Tshani area.  Over our three-day visit overlooking the Mdumbi River we completely fell in love with the place as we enjoyed excellent company and hospitality from our hosts and discovered spectacular places to explore around the coast and estuaries.  We found ourselves returning very soon with three visits in three months and undoubtedly another coming in the not too distant future.

October brought about the summer season and happily our bookings began to increase. A good number of epic adventures took place with the most memorable one being a fully booked adventure day trip in collaboration with Eastern Cape Travel. The guests enjoyed a visit to the Yellowwood Forest to check out the Saturday Market and explore the indigenous forest, kayaked the Morgs Estuary with Great Kei Adventures, abseiled the cliffs with Morgan Bay Adventures and enjoyed sundowners with delicious snacks from Great Kei Gourmet. All the adventure went wonderfully despite Dom stepping on a nightadder at Yellowwood in the middle of the day and ending up in the hospital for a couple of nights (she made a full recovery within a week) causing much chaos and concern.
An increased effort on mushroom production for the December season kept us busy for much of November with a steady stream of bookings and enquiries coming in on the tourism side as well. We began experimenting with some new mushroom varieties and products and look forward to having them on offer soon. Sadly, some dodgy weather came in the way of a few bookings on the tourism side but so it goes on the Eastern Cape coast.
Arriving in December we find ourselves looking forward to servicing the many bookings which have been made alongside as many of the last-minute requests that usually come through at this time of year. In these times we are very unsure of what to expect and certainly don't want to set our hopes too high, but we will certainly aim to take on everything to the best of our abilities. We also can't wait to see family and old friends who are using their hard-earned time off to visit this magnificent part of the world.
Peeking into 2021 we are apprehensively excited to announce some new adventure products. Overnight adventures to Hogsback featuring wild mushroom foraging, mystical hikes and waterfall abseiling; multi-day missions to the central Wild Coast for action packed explorations, various packages showcasing what our local area has to offer and even perhaps a festival or two are all in various phases of development. We also look forward to working with Chrysalis Nature College on enticing some new forms of tourism into the area.
Dom and I feel like the luckiest people in the world to be able to develop our business and our lives in such a beautiful paradise, especially in these tough times across the world. This wouldn't be possible without the help and support of the local community and we would like to extend a massive thank you to the many locals and visitors to the area who have supported us. Whether you bought a bag of mushrooms, came on a kayak trip, or just told someone about us or shared a post on social media we are hugely grateful for your support. While there are many people, I would like to mention individually there are a few who I must make particular mention of. Thank you to Michelle Storm for your endless support and inspiring us to be expansive. Thank you to Julie-Anne Gower and the team at Wild Coast Horse Trails for loads of business, awesome advice and excellent mushroom substrates. Yellowwood Forest for having us at your markets every Saturday. Gerard Peter for sharing your massive knowledge of mushroom cultivation and marketing with us. Last but not least thank you to my parents George and Yvonne for the endless amount of help you provide in helping us to achieve our dreams and live life to the fullest, there are no words to express how grateful we are.
In conclusion we are happy to say that despite this crazy year we are here to stay. Merry Christmas and happy holidays to all. Most importantly, stay safe out there and we will see you around in the Kei.
Sincerely,
Dylan Lees
Co-owner and head guide
Great Kei Adventures